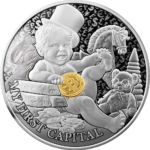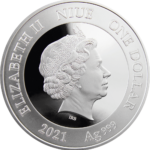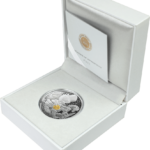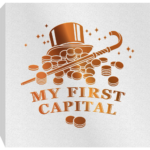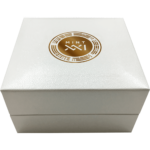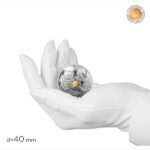 My First Treasures
My First Capital
SPECIFICATIONS
Country:
Niue
Year of Issue:
2021
Face Value:
1 dollars
Metal:
Silver. 999
Weight:
15.55 g
Dimensions
40 mm
Quality:
Proof
Mintage:
1000 pcs
Features:
Selective gilding
Order
You will be redirected to our distributor's website TopWorldCoins.com
DESCRIPTION
One of the most profound and wonderful experiences in a lifetime is to become a parent. You can't understand what it is until you actually have a child. And of course, you should give your child the best that you can – your time, your love, your care. To put it shortly, you should devote your life to your baby, if you want to raise him a good and happy person. And sometimes you want to highlight your love and present your baby something symbolic and precious that will be the beginning of your baby's successful future and will bring luck. "My First Capital" coin is what you are looking for!
Every parent wants the best for their child. That is why this coin can be a great gift idea for a baby expressing the best wishes for many occasions: birthday, christening or just for no reason.
"My first treasures" is a unique series of coins, which starts with "My first capital" coin. The coin has a one-of-a-kind design. It depicts a baby with toys such as a teddy bear, rocking horse, and stacking rings on one side and with money like a beautifully gilded Bitcoin, coins, and bullions on the other side.
This coin represents the first capital in life and is a symbol of the successful future for your child. It will be a first treasure that falls into the hands of your baby!