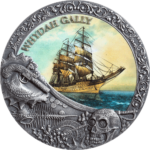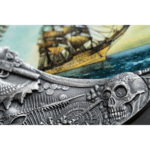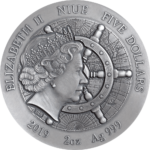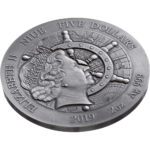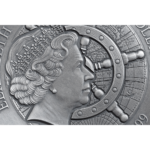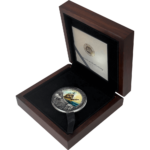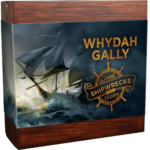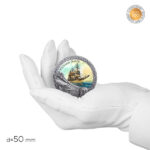 Grand Shipwrecks in a History
Whydah Gally
SPECIFICATIONS
Country:
Niue
Year of Issue:
2019
Face Value:
5 dollars
Metal:
Silver. 999
Weight:
62.2 g
Dimensions:
50 mm
Quality:
Antique finish
Mintage:
500 pcs
Features:
Digital printing, high relief
Order
You will be redirected to our distributor's website TopWorldCoins.com
DESCRIPTION
This beautiful coin is the first issue in the "Grand Shipwrecks in a History" series.
A wonderful imprint on the background features a luxurious Whydah Gally encircled by a ring of floral ornaments. The place of the shipwreck with treasures on the seabed has been reproduced in 1.5 mm relief on the foreground. During its maiden voyage, the Whydah Gally was hijacked by Samuel Bellamy or "Black Sam". In 1717, the ship fully drowned in a storm near Cape Cod. It was found in 1984, and among the findings, a well-preserved bell helped to identify the remains of the Whydah Gally.
This coin is a time machine that will allow you to feel the atmosphere of this event. Discover the history of one of the grand shipwrecks and its treasures – Whydah Gally!