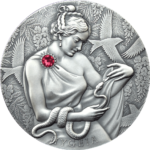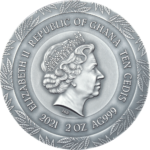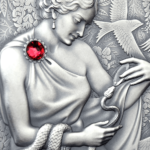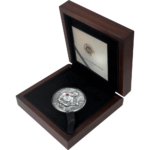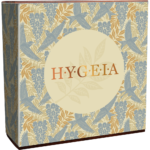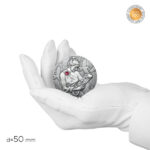 Hygeia
SPECIFICATIONS
Country:
Ghana
Year of Issue:
2021
Face Value:
10 Cedis
Metal:
Silver. 999
Weight:
62.2 g
Dimensions
50 mm
Quality:
Antique finish
Mintage:
500 pcs
Features:
High relief, Swarovski crystal insert
Order
You will be redirected to our distributor's website TopWorldCoins.com
DESCRIPTION
Hygeia was the Greek goddess of good health and medicine. She was in charge of cleanliness and how to live a long life. As well as on this coin, she was regularly shown holding and feeding a sacred snake in her arms. Her other official symbol was a patera. She is surrounded by birds that symbolize freedom and eternal life. The bowl with water represents a medicinal potion, while the snake represents healing.
Decorations on the coin will attract not only ancient mythology lovers but also the most demanding connoisseurs of numismatics. The high relief technique greatly illustrates the goddess, emphasizing the smallest details of this unique coin.
An awesome coin decorated with a genuine Swarovski crystal inset!