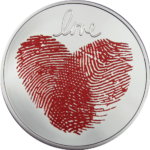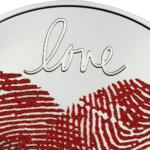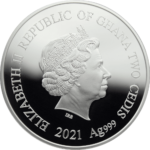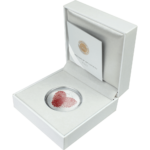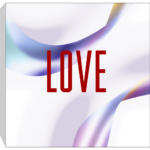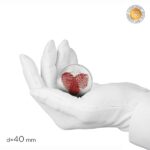 Love Coin
SPECIFICATIONS
Country:
Republic of Ghana
Year of Issue:
2021
Face Value:
2 cedis
Metal:
Silver. 999
Weight:
15.5 g
Dimensions
40 mm
Quality:
Proof
Mintage:
1000 pcs
Features:
Digital printing
Order
You will be redirected to our distributor's website TopWorldCoins.com
DESCRIPTION
We are always trying to keep, in one or another way, something that connects us with a person most dear to us. Be it the names carved on the wood, a lock of hair, a portrait or photo, dry flowers, or a touching love letter left between the sheets of your old diary – history knows many ways for this. Everything that connects us with those who we love bears its special value for us. Yet, the deepest trace love leaves in our hearts, and it is something that remains with us forever – a trace so special and so unique that it can be only compared to a fingerprint.
The coin issued by the Republic of Ghana reflects the idea in its essence by illustrating the bright red heart, composed of two human fingerprints. The neat design of the coin is incredibly accurate in its symbolism and amazes with a precisely crafted image of a detailed fingerprint pattern – you can literally see each of the tiniest lines. Being the struck of 1 oz of pure silver, the coin will become a great gift for someone you love.
Let this coin express the depth of your feelings, which rest in your heart!