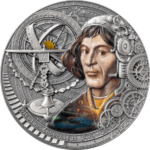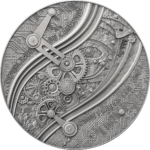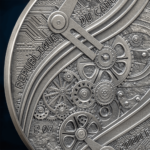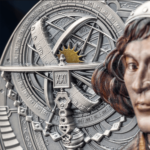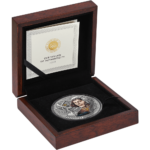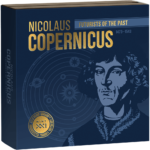 Futurists of the Past
Nicolaus Copernicus
SPECIFICATIONS
Country:
Cameroon
Year of Issue:
2023
Face Value:
2000 francs CFA
Metal:
Silver. 999
Weight:
2 oz
Dimensions:
50 mm
Quality:
Antique finish
Mintage:
500 pcs
Features:
Digital printing, digital gilding
Order
You will be redirected to our distributor's website TopWorldCoins.com
DESCRIPTION
Immerse yourself in the new Futurists of the Past series dedicated to innovators and visionaries. The first piece — a tribute to the legendary astronomer Nicolaus Copernicus.
In 2023, MINT XXI commemorates both the 550th anniversary of Copernicus' birth and the enduring impact of his revolutionary heliocentric model. By defying established beliefs, Copernicus paved the way for future advancements in astronomy and science as a whole.
The 2 oz Nicolaus Copernicus coin beautifully combines digital printing and digital gilding, accentuating important elements with intricate detail.