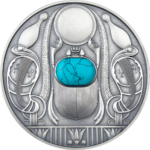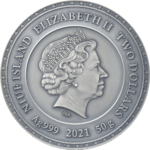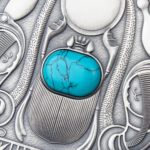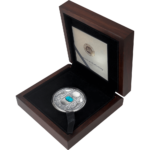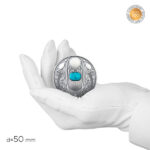 Scarabaeus
SPECIFICATIONS
Country:
Niue
Year of Issue:
2021
Face Value:
2 dollars
Metal:
Silver. 999
Weight:
50.0 g
Dimensions
50 mm
Quality:
Antique finish
Mintage:
888 pcs
Features:
Turquoise insert
Order
You will be redirected to our distributor's website TopWorldCoins.com
DESCRIPTION
Scarabaeus Sacer is a beetle that was sacred to the ancient Egyptians. Around 2000 BCE, scarabs were used in jewellery and as seals. The amulets were worn as protection against the dangers of this world and the afterlife.
A scarabaeus became an inspiration for creating this unique coin. The coin also depicts the jewellery art of Egypt. The turquoise was used here as a decoration, as it is considered a stone of happiness. This charming sea-green stone of the ancients represents wisdom, tranquillity, protection, good fortune, and hope.
The Scarabaeus coin is a wonderful piece combining two powerful symbols – a scarab and turquoise stone! A unique amulet of prosperity that will protect you in bad times when you need support and luck!