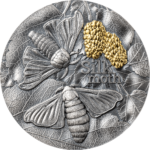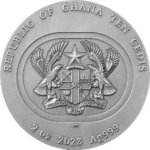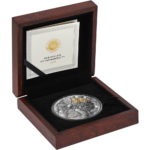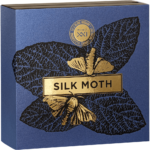 Nature Architects
Silk Moth
SPECIFICATIONS
Country:
Ghana
Year of Issue:
2023
Face Value:
10 cedis
Metal:
Silver. 999
Weight:
2 oz
Dimensions:
45 mm
Quality:
Antique finish
Mintage:
500 pcs
Features:
High relief, selective gilding
Order
You will be redirected to our distributor's website TopWorldCoins.com
DESCRIPTION
Chinese people guarded the art of silk making for thousands of years, successfully keeping it a state secret. This secret paved the trade route between East and West, combining the cult history of both worlds in one craft. The silk enigma is probably what makes it so fascinating.
MINT XXI has paved its own silk road. Engraved with a high-relief technique on the 45mm silver coin, the silk moth perfectly complements the gilded mulberry against the background of scattered mulberry leaves. The combination of natural and human creation was forever locked in a 2 oz silver coin as an extension of the fascinating Natural Architects series.
Order your Natural Architects series coin today and own a beautiful piece that combines the fascinating history of silk with the wonders of natural and human creation.