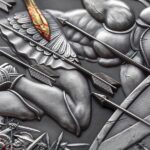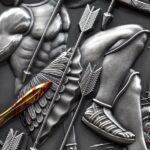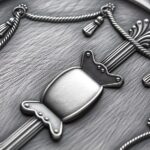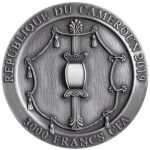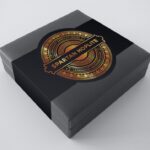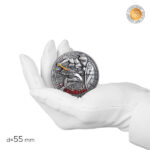 Legendary Warriors
Spartan Hoplite
SPECIFICATIONS
Country:
Cameroon
Year of Issue:
2019
Face Value:
3000 francs
Metal:
Silver. 999
Weight:
93.3 g
Dimensions
55 mm
Quality:
Antique finish
Mintage:
500 pcs
Features:
High relief, selective gilding, digital printing
Order
You will be redirected to our distributor's website TopWorldCoins.com
DESCRIPTION
The Legendary Warriors coin series pays tribute to the valiant warriors of past centuries, and its main goal is to tell their story with a language of coin art. The first release of the series represents a Spartan Hoplite in the heat of a battle. Produced by MINT21, the coin is officially distributed by TopWorldCoins.
Reasons to purchase the coin: – First release in the Legendary Warriors series! – Produced in 3 oz of pure 999 silver with antique finish; – Dynamic high relief design, enhanced with selective gilding and digital printing; – Elegant presentation case; – Total mintage of 500 pcs around the world!
Coin: Being a legal tender of the Republic of Cameroon, this coin is produced in 3 oz of .999 silver. A wonderful high relief silver canvas with mere 55 mm in diameter will impress the audience with its extraordinary details and atmospheric action scene. The coin is housed in an elegant presentation case and includes a certificate of authenticity. The total mintage is limited to 500 pieces around the world.
Design: The coin depicts a Spartan warrior who rushes towards the danger ignoring the rain of arrows and holding the gilded xiphos. Enhanced with some colour, the dramatic battle scene in the background looks literally covered with blood. Richly decorated with Greek motives, the rim encircles the reverse composition but at the same time leaves it open and becomes a fully-fledged participant of the story. The final word is, however, told by the obverse which is stylized as the inner side of the hoplon shield – with its extraordinarily high rim.
The Hoplites of Sparta: The heavily armoured infantry of Ancient Greece bore the name of hoplites referring to their main attribute – a heavy hoplon shield. Hoplites formed the main part of a classic phalanx and remained a major battle force during 4 centuries starting from 7th century B.C. The free citizens of city-states usually served as hoplites up till their sixties and they had to provide themselves with weapons and armour. The citizens of Sparta, unlike their counterparts, remained in military service for their entire life, getting sufficient training since the childhood. The armour of a Spartan hoplite included a traditional shield with Lacedaemonian emblem, a bronze Corynthian helmet – with a transverse crest for the upper echelon – and a cuirass or linothorax. Additionaly, the armour was complemented with greaves and vambraces. During the fight, hoplites used a 3 m dory spear and a short xiphos sword.