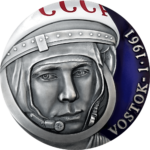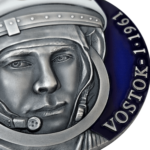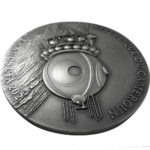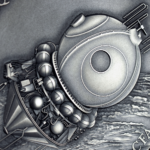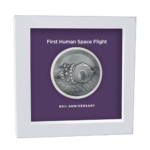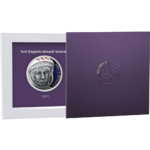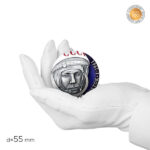 Vostok-1
SPECIFICATIONS
Country:
Cameroon
Year of Issue:
2021
Face Value:
3000 francs
Metal:
Silver. 999
Weight:
93.3 g
Dimensions
55 mm
Quality:
Antique finish
Mintage:
500 pcs
Features:
Digital printing, high relief
Order
You will be redirected to our distributor's website TopWorldCoins.com
DESCRIPTION
About 60 years ago, nobody on Earth knew what would happen when a human was launched into space. That all changed on this historic day – April 12, 1961. It is the day Yuri Gagarin launched off the Earth into space and successfully orbited the planet.
Gagarin's flight lasted 108 minutes. 108 minutes that shook the world forever! After that, Gagarin became an international hero, opening a new chapter of human endeavour in outer space. People called him "The Columbus of the Cosmos".
To commemorate the first human spaceflight, the Republic of Cameroon has issued this amazing coin struck from 3 oz of .999 silver in stunning 55 mm with antique finish.
The reverse contains the portrait of Yuri Gagarin back in 1961 when he became the first person to fly in space. The obverse greatly depicts Vostok-1 – the first crewed spaceflight in history. The mintage is limited to only 500 pieces around the world.
The name of Yuri Gagarin is still widely known across the globe. A legend of space, a man who changed the world, the first man in space is beautifully portrayed on this 3000 Francs CFA silver coin.