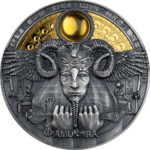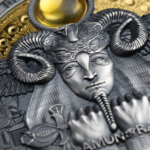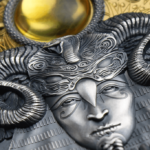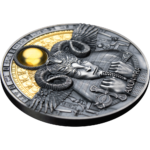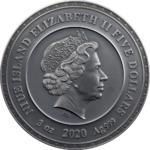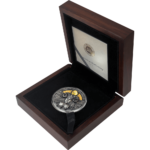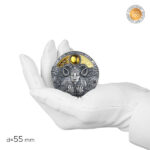 Divine Faces of the Sun
Amun-Ra
SPECIFICATIONS
Country:
Niue
Year of Issue:
2020
Face Value:
5 dollars
Metal:
Silver. 999
Weight:
93.3 g
Dimensions
55 mm
Quality:
Antique finish
Mintage:
500 pcs
Features:
Selective gilding, amber insert, high relief
Order
You will be redirected to our distributor's website TopWorldCoins.com
DESCRIPTION
This splendid coin is the first release in the "Divine Faces of the Sun" series.
Previously, the Egyptians worshiped two different divinities: Amun and Ra. As a matter of fact, Amun-Ra became one god about 2040 B.C. Amun Ra possessed the traits of both gods, their influence, power, and greatness. On the coin, Amun Ra is depicted in the form of a man with a ram's head like ancient people used to depict him. He also has signs of the god Ra – the eagle with a solar disk on his head. Like Amun, Amun-Ra holds a cross with a loop that is a symbol of life and immortality.
Get this coin that represents two gods in one divinity and get acquainted with the supreme god in the Egyptian culture – Amun-Ra!