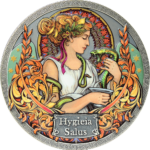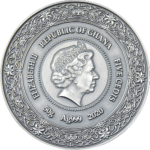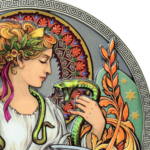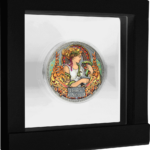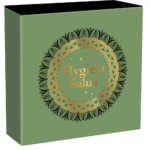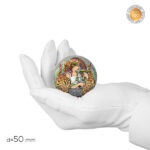 Goddesses of Health
Hygieia Salus
SPECIFICATIONS
Country:
Republic of Ghana
Year of Issue:
2020
Face Value:
5 Cedis
Metal:
Silver. 999
Weight:
50 g
Dimensions
50 mm
Quality:
Antique finish
Mintage:
500 pcs
Features:
Digital printing
Order
You will be redirected to our distributor's website TopWorldCoins.com
DESCRIPTION
This coin opens a new impressive series that is called "Goddesses of Health". Hygieia was the goddess of health, cleanliness, and hygiene. Salus, in Roman religion, the goddess of safety and welfare, later identified with the Greek Hygieia.
As well as on this coin, she was regularly represented as Hygieia, with patera and sacred snake, and with ears of grain, symbolizing prosperity. The bowl represents a medicinal potion, and the snake represents healing. Today, the Bowl of Hygeia is the most widely recognized international symbol for the pharmacy profession and considered one of the profession's most prestigious awards.
However, decorations on the coin will attract not only ancient mythology lovers but also the most demanding connoisseurs of numismatics. The digital printing technique greatly illustrates the goddess, emphasizing the smallest details of this unique coin.