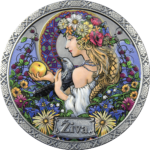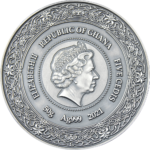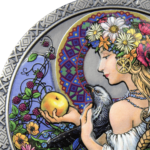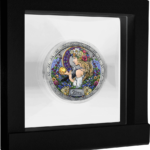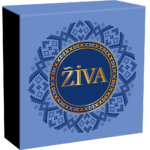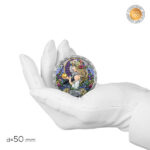 SPECIFICATIONS
Country:
Republic of Ghana
Year of Issue:
2021
Face Value:
5 Cedis
Metal:
Silver. 999
Weight:
50 g
Dimensions
50 mm
Quality:
Antique finish
Mintage:
500 pcs
Features:
Digital printing
Order
You will be redirected to our distributor's website TopWorldCoins.com
DESCRIPTION
The name "Ziva" is translated as "living, being, existing". She is the Slavic Goddess of Life and Fertility. Together with the Horned God Veles, who is the God of Underworld, Time, Order and the Herds, they are a symbol of life and death. Ziva is above all the goddesses of water. In some resources, it says that she is also the ancient goddess of fruitfulness and love. Her time is summer and she brings life.
We present to you a new coin from the series "Goddesses of Health", coming after the "Hygieia Salus" coin. Ziva is portrayed on this coin as a beautiful woman with an apple and a bird in her hands, summer flowers and berries around her. All this symbolizes harvest and nourishment that she brings to people. Ziva holds an apple in her right hand because, in the folklore of Polabians, the apple was preserved as love symbol of the Goddess.
The coin has an awesome colouration thanks to the digital printing technique. It greatly represents the things that this Goddess personifies – youth, beauty and tenderness, life and its renewal.