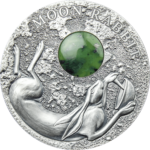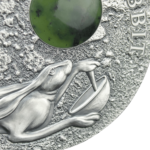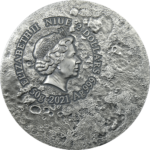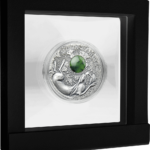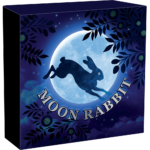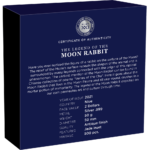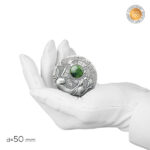 Oriental Culture Collection
Moon Rabbit
SPECIFICATIONS
Country:
Niue
Year of Issue:
2021
Face Value:
2 dollars
Metal:
Silver. 999
Weight:
50 g
Dimensions
50 mm
Quality:
Antique finish
Mintage:
500 pcs
Features:
Jade insert
Order
You will be redirected to our distributor's website TopWorldCoins.com
DESCRIPTION
Have you ever noticed the figure of a rabbit on the surface of the Moon? The relief of the Moon's surface repeats the shapes of the animal and is surrounded by many legends connected with the origin of this optical phenomenon.
The earliest mention of the Moon Rabbit can be found in Chinese legends, written in ancient China during the Western Han Dynasty. In the collection of poems "Verses of the Chu", it goes about a Moon Rabbit that lives in the Moon Palace and all year round, crushes in a mortar potion of immortality.
The coin tells us one Chinese legend about the adorable Rabbit on the Moon. The Moon Rabbit is a mythical figure who lives on the Moon in Far Eastern folklore, based on pareidolia interpretations that identify the dark markings on the near side of the Moon as a rabbit.
Some poets of the Han dynasty often called the lunar rabbit as a "jade rabbit", that is why the coin is decorated with a jade inset. The legend of the Moon Rabbit permeates art and culture through time.
An awesome coin depicting the Moon Rabbit, which is still pounding the elixir of life in its pestle and is up there in the Moon for everyone on Earth to see during the nights of the full moon!