The Legend of the Nibelungs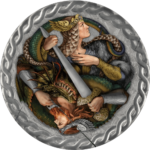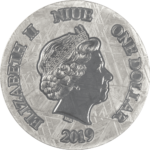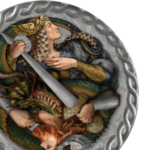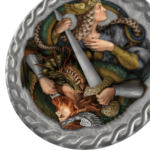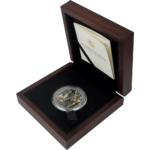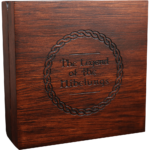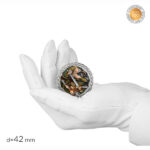 Meteorite Coin
The Legend of the Nibelungs
SPECIFICATIONS
Country:
Niue
Year of Issue:
2019
Face Value:
1 dollar
Metal:
Pure Muonionalusta meteorite (Sweden)
Weight:
31.1 g
Dimensions
42 mm
Quality:
Proof
Mintage:
818 pcs
Features:
Digital printing
Order
You will be redirected to our distributor's website TopWorldCoins.com
DESCRIPTION
Mint XXI released a truly unique coin struck of 1 oz of pure Muonionalusta meteorite. Showcasing the legendary figures of Siegfried and Brunhild, this coin refers to one of the modern interpretations of "The Song of the Nibelungs", the famous European epic poem. Considering Germanic-Scandinavian roots of the story, Muonionalusta meteorite was chosen as coin material due to the fact that it was found in northern Scandinavia.
Reasons to buy – Exclusive coin release! – Struck of 1 oz of pure Muonionalusta meteorite! – Individual meteorite structure; – Modern interpretation of legendary poem; – Elegant wooden box; – Worldwide mintage is limited to 818 pcs!
The Legend According to this version, Siegfried and Brunhild set off in the quest for a fallen star and in the fight for unearthly stone they eventually fell in love with each other. As a symbol of their vow to meet again and marry, the heroic couple divides the meteorite into halves and forges the weapon – a sword for Siegfried and a spear for Brunhild.
With her hand resting on her heart, Brunhild gazes at the star. As being once foretold, Brunhild should marry the one who defeats the mighty maiden in the battle. Siegfried, known as the hero who slayed the dragon Fafnir and possessed the ring of the Nibelungs, is depicted with his trophies. His victory allows him to gain a position in the royal court and to marry Brunhild. At the same time, Siegfried possesses the dragon's treasures, and this fact throws a curse on him and his beloved. This results in his death after court intrigues.
The Artwork Paying homage to the legend, the beautiful artwork on the reverse tells us something more, rather than just a depiction of saga heroes. The way they are portrayed echoes with the conception of two opposite entities in a state of a constant struggle. The idea is enhanced by a central relief element – the weapon which compositionally connects the heroes, at the same time dividing them and thus giving a hint on their further destiny.
If you love exclusive coin themes, if you enjoy legends and myths and if you appreciate the beauty of meteorites, this coin is your best choice!