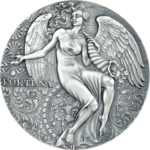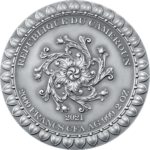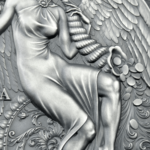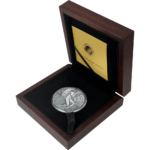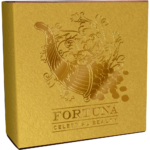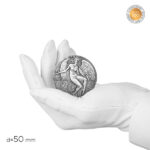 SPECIFICATIONS
Country:
Cameroon
Year of Issue:
2021
Face Value:
2000 francs
Metal:
Silver. 999
Weight:
62.2 g
Dimensions
50 mm
Quality:
Antique finish
Mintage:
500 pcs
Features:
High relief
Order
You will be redirected to our distributor's website TopWorldCoins.com
DESCRIPTION
Fortuna is an ancient Roman goddess of luck, fate, and fortune, as her name implies. She is also considered as the goddess that brings people happiness, well-being, and success. In later times, one of the most important goddesses of ancient Egypt, Isis was often identified with Fortuna.
Fortuna was usually depicted (on coins, gems, frescoes, sculptures, etc.) holding in one hand a cornucopia, or a horn of plenty, or leaning on a ball or Rota Fortunae (wheel of fortune). The wheel of fortune represents the cycles of fate and the ups and downs of fortune.
The coin is full of ornaments and decorations. On the coin, Fortuna is depicted in the image of a young, beautiful woman, who holds a cornucopia, from which all good things such as goodness, happiness and wealth flowed in abundance. It greatly represents Her ability to bestow prosperity. Wings and wheels are also associated with this goddess.
To some extent, Fortuna is still honoured today, as she's the woman to speak to if you want some luck sprinkled on your lottery ticket!