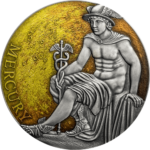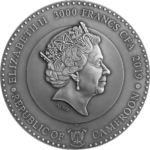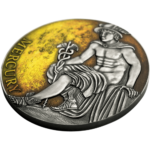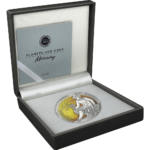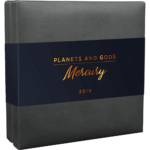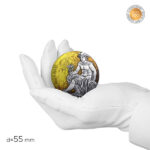 SPECIFICATIONS
Country:
Cameroon
Year of Issue:
2019
Face Value:
3000 francs
Metal:
Silver. 999
Weight:
93.3 g
Dimensions
55 mm
Quality:
Antique finish
Mintage:
500 pcs
Features:
High relief, digital printing
Order
You will be redirected to our distributor's website TopWorldCoins.com
DESCRIPTION
In 2019, MINT21 has launched the new outstanding collection dedicated to the ancient Roman gods and the planets named after them. You can purchase Mercury, the first coin of the series, at TopWorldCoins, the only official distributor of this coin.
Why do you want to purchase this coin: – First coin in exclusive Planets and Gods series! – Struck of 3 oz of pure 999 silver; – Detailed high relief image of the god; – Realistic depiction of planet Mercury surface; – Elegant presentation case; – The mintage is limited to 500 pcs worldwide!
The series starts with the smallest planet in the Solar System and the one closest to the Sun, with an orbital period of about 88 Earth days, which is much faster than any other planet.
Mercury bears its name in regards to the ancient Roman god, the messenger of the gods. Depicted in a sitting pose, yet wearing the winged sandals and helmet, Mercury shows a full readiness to fly away any moment with news under his wing.
The coin's background is tinted yellow in order to match the planet's color with its heavily cratered surface, which creates an interesting contrast with high relief image of the god Mercury. Antique finished and with digital printing, the coin is made of 3 oz of silver .999 in its highest hallmark. The coin is housed in an elegant presentation case with certificate of authenticity and is limited to 500 pieces around the world.
A perfect choice for the admirers of space and ancient mythology, this Mercury coin will also make a worthwhile investment. Add the Mercury coin to your cart today!