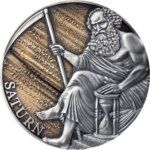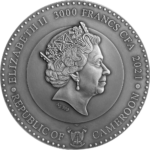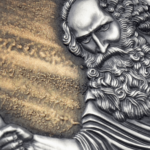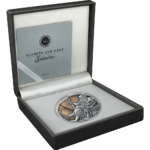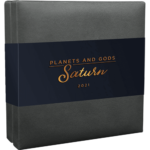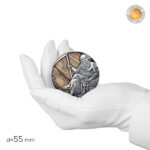 SPECIFICATIONS
Country:
Cameroon
Year of Issue:
2021
Face Value:
3000 francs
Metal:
Silver. 999
Weight:
93.3 g
Dimensions
55 mm
Quality:
Antique finish
Mintage:
500 pcs
Features:
High relief, digital printing
Order
You will be redirected to our distributor's website TopWorldCoins.com
DESCRIPTION
This incredible coin is the next release of the "Planets and Gods" series. The coin is dedicated to the sixth planet from the sun, which has the largest planetary rings in the Solar System – Saturn.
Since ancient times Saturn was known to humanity because of its brightness and closeness to Earth. Saturn bears its name in honour of the Roman god of wealth, agriculture and time, who is the equivalent of the Greek god of time – Cronos. Because of the planet's slow orbit around the sun, it was associated with time, and due to its golden-like glow, it was also associated with wealth. That is why the coin depicts the wise god with a scythe in one hand and putting his other hand on the hourglass.
The coin's background is tinted brownish-yellow in order to match the planet's colour that creates an interesting contrast with a high relief image of the god Saturn.
A beautiful coin representing the "Ringed Planet"!